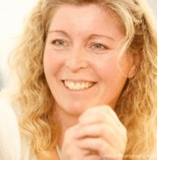 Karin Møller Rigas
Master in Business coaching, Leadership Development Consultant – Konsulter
Karin is a Master in Business coaching and has over 25 years experience in organisational development, including leadership training, employee development, coaching, project management, lean leadership, e-learning, sketch talks. She has more than 3000 coaching hours including philosophical coaching/protreptic. 
She is the author of the book "You are special - Strong foundations make great employees".

30 years experience in the financial sector, working with sales and sales leadership for both private customers, small corporates and large global companies 9 years experience as a leader.
Associated strategic and mental coach for a National team.
6 years of expert work and experience with e-learning and animation/sketch talks


Core competences: Large group interventions, sales and sales leadership training, project management, lean leadership, on-the-job training, executive coaching, philosophical business coaching/protreptic, mental training, strategic change management and learning, blended learning, e-learning for leaders, animation of processes, animated learning videos, animation of e.g. IT-manuals. 
She speaks Danish, Swedish and English.