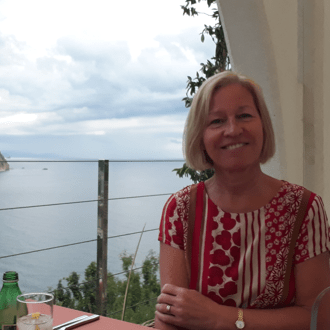 Marianne Wirfe
Marianne is very competent and passionate about people's well-being and has deep knowledge both theoretically and practical how to use health and lifestyle together with nutrition. She has also been into product development of healthy nutritional products and consultancy in the field of food and nutrition. She has also been working with business strategies in companies focusing on health and food. 
Not only that she also help individuals with nutrition or food challenges. 
She can teach you in a inspirational way on the theme: "What we eat forms our health" and help groups and companies making it easy and nudge behavior towards a helthy lifestyle. She is a fun and positive consultant with a very high level of knowledge together with a practical view on what works. 

Her educational background comes from Karolinska Institute and Missouri University of Science and Technology where she has a Nutrition education and chemistry and physics. 
The work experience is from Lantmännen, Procordia, Aco, Arla, Semper, Medifood, Procordia, Friggs. 
Marianne has great interest in WHOs strategies on implementing more preventive health actions. 
Below the CV. 
Nutrikom AB Stockholm
Founder & CEO. January 2015 - Present
Accomplishments: Founded a consultancy company specializing in providing companies with nutritional
advice to strengthen their brand and market position. 
Functional Foods AB, Lantmännen.

Kropp i Harmoni Stockholm
Founder & CEO. January 2005 - November 2018
Accomplishments: Provided nutritional advice for several Swedish Food and Pharma companies and municipalities. Consultancy and coaching nutrition, pilates, craniosacral balancing to single clients and groups.


Omega Pharma, ACO Nordic Stockholm
Nutritionist & quality assurance consultant. December 2010 - June 2013
Accomplishments: Developed and launched several nutritional supplements such as ACO Gravid, omega-3 and vitamin D. Produced brochures, TV-commercials and held webinars for midwives, dietitians and pharmacy employees. Assured labels were complying with EFSA regulation.


Arla, Semper AB, Medifood AB Stockholm
Nutritionist, marketing manager. July 1995 - December 2000
Accomplishments: Responsible for a portfolio of enteral nutrition products and medical devices. Helped establish a joint venture with Semper Product Development department, B. Braun Germany. Ensured that ISO 9000 legislation was followed during the launch of various Complete Nutritional Drinks – products that
experienced great success. Also developed marketing plans and advertisements for medical technical devices for enteral nutrition, particularly probe nutrient pumps.


Friggs AB Stockholm Nutritionist, product manager. July 1994 - June 1995
Accomplishments: Responsible for the product portfolio called Functional Foods. Work included developing
budgets, marketing plans, profitability control, sales and product development. Helped with the launch of
several ecological products and ensured they were produced in accordance with KRAV-legislation.


Procordia Health Food AB Stockholm
Nutritionist, product manager. January 1990 - July 1994
Accomplishments: Responsible for innovation and clinical studies for three projects. The first concerning Helicobacter pylori, the second being Sportmȕsli, and the third being a vegetarian soy-based yoghurt. The last
product was a joint venture between the German company Abtei, the Danish company ANJO and the French company Vitagermine. Several international contacts were made during this time.


Friggs Naturprodukter AB Stockholm
Nutritionist, product development, quality assurance. January 1988 - December 1990
Accomplishments: Responsible for various product portfolios including those consisting of figs, teas,
nutritional supplements and the launch of Europe's first rice cakes. Work included quality assurance of the
product portfolio and representation of Friggs towards authorities within and outside the Nordic countries. Served as contact person towards Swedish legislation authorities, ICA, COOP and 
Risenta AB. Worked with the Faculty of Agricultural Science at Ege University in Izmir, Turkey advising on aflatoxins in figs during 1988 - 1989.Education
Stockholm Marketing Association Stockholm


Diploma in Marketing. 1991 - 1992
Accomplishments: Courses included Marketing strategy, Organizational Theory, Marketing planning,
Marketing information, Marketing law, Product planning, Pricing, Marketing communication, Marketing of service. Master thesis included developing a marketing plan for the Red Cross's HLR-education.


We in Procordia Education Stockholm
Diploma in Leadership. 1991 - 1992 Accomplishments: Learned and became responsible for implementation of the "We in Procordia" employee
awareness program. The initiative served to encourage collaboration between all Procordia group companies.


Karolinska Institutet, Stockholm
Bachelor's Degree in Nutritional Science. 1984 - 1987
Accomplishments: Bachelor thesis in chemical effects of herbicides on animals.


Swedish Carnegie Institute Stockholm Diploma in Effective Speech and Human Relations. 1990 - 1991


Stockholm University Stockholm
Courses withing the Chemistry Program. 1983 - 1984
Accomplishments: Courses included Elementary Chemistry, Analytical Chemistry, Organic Chemistry, Inorganic Chemistry, Biochemistry, Microbiology.
Missouri University of Science and Technology Rolla, Missouri USA
Courses within Chemistry and Physics. 1980 - 1982
Skills, Activities & Interests
Languages: Swedish – native language, English.
Technical Skills: Microsoft Office Suite.
Interests: I enjoy spending time with family. I am fond of gardening, traveling, skiing, sailing and meeting new
people. I am passionate about people's well-being and like staying updated on the latest nutritional research.